Dear Authors, Due to the latest advisories on Covid 19 (Coronavirus), the organising committee had no choice, but, to postpone the event. Once the organising committee decided the new dates, we will update you in due course. The organising committee apologies for all inconvenience caused. Hoping to see you in the near future! Thank you! Best Regards, Organizing Committee
Entry Requirements
Visas
Applying for visa is easy. ETA online facility is available for this purpose.
Main web site
You then need to follow the "Apply" tab, And then select the "Business Purpose – Individual" pages.
Available here
And then select "Conferences, workshops and seminars" tab. See the screen short below.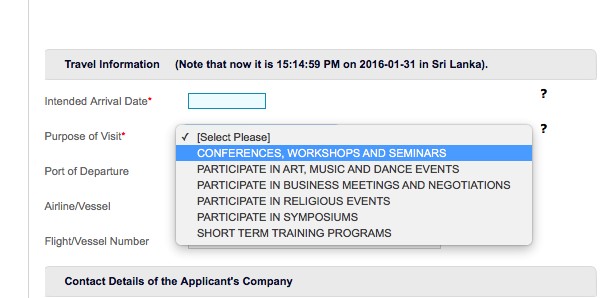 Filling contact details in Sri Lanka:
Please include the details as follows:
Company name:
Disaster Management Centre, Sri Lanka
Address:
Mr Sunil Jayaweera, Director Planning and Preparedness, 3rd, 4th Floor, 120/2 Vidya Mawatha, Colombo 00700, Sri Lanka
Email address:
Sunil Jayaweera: jayaweera_s@yahoo.com You need to enter all your details and you can thereafter pay the visa fees online. You will then get the authorization note via email. Please bring a copy of that when you travel and you need to produce that at the immigration counter at the Sri Lanka airport.
Getting there:
Flying is the only way to enter Sri Lanka.The main gate way to Sri Lanka is through the Bandaranakaya Interntioanl Airport. Bandaranaike International Airport is Sri Lanka's only international airport. It is located in Katunayake, 35 km north of Colombo. It is administered by Airport and Aviation Services (Sri Lanka) Ltd. It is the hub of SriLankan Airlines, the national carrier of Sri Lanka. In recent years, various expansion projects have been undertaken at Bandaranaike International Airport.
Currency
There are a number of Banks with counters and an ATM at the airport. They are located immediately after passing through baggage collection and customs. The ATM at the airport has a daily withdrawal limit of 40,000 LKR. Some small notes (50LKRs and 100LKRs) are useful for tipping. Most large towns have an ATM with a daily withdrawal limit of 80,000 LKR. Further, the hotel does have a cashier for foreign currency exchange.
Mobile Phones and Data Availability
Sri Lanka has a good mobile phone network, with widespread 3G and limited 4G coverage. We recommend one of the many tourist packages offered by the network providers, such as
Mobitel
Liability and insurance
It is recommended that participants arrange personal health and travel insurance. The organisers will not assume responsibility for injury or damage to persons or property during the meeting.